A limited edition of only 100 lithographs have been produced from this exquisite rendition.

A collector's item that any equestrian/horse racing fan will cherish!

Each full color piece measures 11" x 17" a standard size that will fit well in your den, office or home. Each comes signed and numbered by the artist and comes with a certificate of authenticity. These are specially priced for our collectors at only $99.00. An additional $6 is added for shipping, handling and insurance.
"BIG BROWN TRIUMPHS!"
11" X 17" LITHOGRAPH
$99
Plus $6 for shipping
CUSTOM HAND PAINTED CANVAS REPRODUCTIONS ARE ALSO AVAILABLE!
These are for serious collectors who appreciate one of a kind pieces of fine art.
These works measures 22" x 28" and are reproduce on actual canvas then put on stretcher bars. Then the artist actually applies paint enhancement to it, thus creating truly a one of a kind work!
These works are individually produce( please allow up to 3 weeks from date of order to delivery)
These works are offered at $299 plus $8 for shipping, handling and insurance.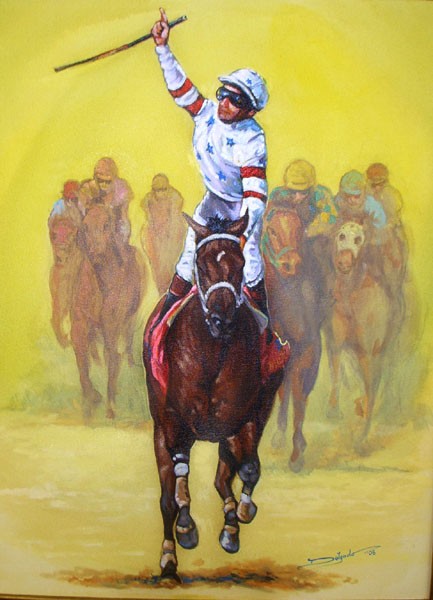 22" x 28" Canvas reproduction (Giclee)
Include actual hand painting.
$299.00 plus $8 for shipping and handling.