An original acrylic painting, his first ever portrayal , that was created in early 2005 which has now become a lasting tribute.
One of America's most exciting thoroughbreds
2005 Eclipse Sprinter of the Year!
"LOST IN THE FOG"
The 2005 Eclipse winner and a favorite and one of racing's most popular race horse has lost his battle against cancer.
We are sorry to report that "LOST IN THE FOG" was euthanized after a battle with advance cancer.We can only remember him as a champion, especially when we now realized he bravely raced with these tumors. We will miss him but will always remember him for his heroics and dream he all gave us while he was with us. And to the many fans who have experience the excitement and thrill of this truly one of a lifetime race horse. He is now stabled at his home in Albany, California at Golden Gate Fields.We are all sadden by this turn of events.
I only hope we will keep his spirit alive in all of us who have ever witness his remarkable achievements. Early last year when I started researching this work I was personally escorted by both trainer and owner in being introduce to "Lost in the Fog" at his stable at Golden Gate Fields. He struck me immediately as quite a personallity and appeared that he like my attention as I study him and took photos. "
In this painting I decided to show him breaking through the fog at the Golden Gate bridge near his home base, leaving all the others contenters behind, as he did many a time. I'm just glad that through this art it will him along with his exitement he brought us all. These champions only come rarely in our lives if ever. We were lucky to have him for those moments.
In addition, Delgado a is deeply sadden and wishes his condolences to Mr. Aleo's family for his recent passing. We will all miss him and the class he brought to the racing community.
I'm sure there's a winner's circle waiting for "The Fog" and I'm sure Mr. Aleo will be there along his side." DELGADO
Career highlights
-- Started his racing career 10-0
-- Won the 2005 Eclipse Award as sprinter of the year
-- Finished career with 11 wins in 14 starts
-- Career earnings of more than $978,000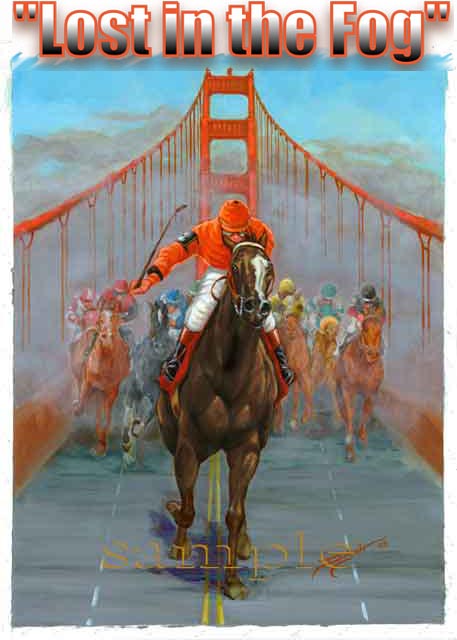 The trainer, Mr. Greg Gilchrist along with the owner, the late, Mr. Harry Aleo with Delgado
"Tribute to LOST IN THE FOG" LIMITED EDITION LITHOGRAPHS -SORRY SOLD OUT
Sorry Tee Shirts are now completely sold out. As with the lithographs we are not reprinting these commemorative racing historical pieces again.
Commemorative Steins are still available see below.
Framed and doubled matted Lithograph, comes ready for displaying.
Through personal arrangements with the owner Mr. Aleo, Delgado has approval to produce limited edition lithographs of "Lost in the Fog". Only
100 lithographs
have been produced from the original work thus making this a rare opportunity for "FOG'S FANS" and collectors. The lithographs measure 11" x 17" and is signed and numbered by the artist. Special framing is available that includes double acid free matting, matching wood molding, glass and wire and is ready to displaying. Outside dimensions of frame is 18" x 24".
Remember, only 100 lithographs
were produced worldwide, so if indeed you wish to have one of these esquisite collector's pieces, please order soon,
first come first serve.
HAND PAINTED CANVAS GICLEES
The artist has agreed to produce a limited number of hand painted Giclees of this work. These are reproduced on canvas and then painted by the artist himself, thus making each a rare original! These works measure 18" by 24" and are available framed. Prices include shipping and insurance on all orders!


PRICES on Giglees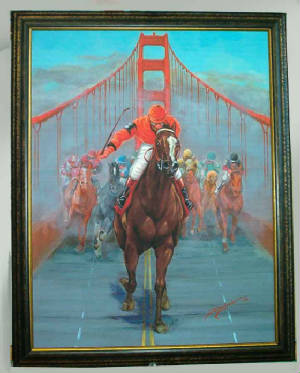 Giclees Reproduction on Canvas includes paint enhancement by artist!



CANVAS GICLEES- $290.00 Includes artist hands on enhancement thus making each canvas work an original! Canvas Dimensions 18" X 24"

| | |
| --- | --- |
| | $290.00 GICLEE-LOST IN THE FOG |
$379.00 FRAMED GICLEE-includes handsome

wood molding professionally framed and

wiring attached- comes ready to display
COMMEMORATIVE STEINS -
We just released this commemorative beautiful gold trim
stein featuring Delgado's art honoring this legendary champion.
On the back it feature's the copy reading " LOST in the FOG"
"The Fog keeps Rolling in" A great momento for every racing fan and collector! Available for $19.99 plus shipping. Quanities are limited. Now you make a toast to him on with your favorite beverage- CHEERS!
Makes a wonderful gift!
CLICK ON IMAGE FOR DETAILS
Front- Features the artwork Back-"Lost in the Fog" The fog keeps rolling in!
Click here or on the image to order your commemorative Stein featuring "LOST IN THE FOG"
For a specific question, you can click here with your inquiry.