Painted before the Preakness race even ran, Delgado captured the finest racehorse in the country winning the second jewel of the Triple crown. An exquisite watercolor now available in limited edition prints.
And in honor of her win over the boys, we are limited the edition to only 134! Since this was the 134th running for the Preakness.
Rachel Alexandra, the lone filly in the field, was a history-making winner of the 134th Preakness Stakes on Saturday at Pimlico. Before a crowd that cheered her lustily both before and after the race, Rachel Alexandra became the first filly to win the Preakness since 1924 and became the first horse to win both the Kentucky Oaks and then the Preakness. Destine to become a legend!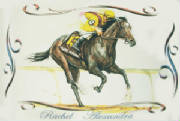 $99.00 -"RACHEL ALEXANDRA" 11"x 17" Limited Edition Lithograph signed and numbered by Delgado, only 134 available!
Please add $6.00 for shipping and handling by USPS Priority mail.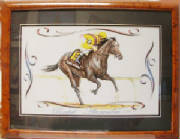 We are also offering professional framing.
This includes the print,double acid free matting,handsome actual wood molding,glass and back wiring. Essentially comes ready to proudly display
189.00 PROFESSIONAL FRAMED-RACHEL ALEXANDRA
Please include an addition fee of $10.00 for shipping and handling.